National Anti-Bullying Week 2016
Supported by Facebook, Google, Twitter, Vodafone, Ask.fm, Blackpool City Council and the Department for Education
This year we used our power for good during Anti-Bullying Week with two events with over 600 amazing young people. We visited Blackpool Winter Gardens and Alexandra Palace in London to bring together our sponsors, staff members, special guests and young people from across the country to get creative and share inspiring anti-bullying messages.
The events featured fun workshops exploring bullying through dance, art, music and drama, as well as a Dragons' Den competition where schools presented their anti-bullying ideas to our Dragons. Our celebrity supporters helped us spread the word about Anti-Bullying Week and hundreds of young people got involved with our #ShakeBullyingOff campaign!
Question and Answer Panel
This year ITV News presenter Charlene White hosted a panel discussion with our supporters, celebs and young people. The audience had the opportunity to ask questions and took part in an interactive debate on questions including 'should bullying be against the law?'
Three teams at each event presented their ideas for technological solutions to bullying to our panel of Dragons' for the opportunity to win £200 for their school.
Schools were given the opportunity to deliver a five minute pitch to representatives of some of the world's top tech firms including Google, Twitter and Facebook. In the end though, each competition had a single victor. In Blackpool the dragons were won over by Broadgreen Primary School, Liverpool, who's "Friendship Island" platform, brought together social networking, games and kindness to create a safe place for young people online. Judges were impressed by how inclusive their idea was.
In London Bowes Primary School won out, their idea of an app that rewards acts of kindness with customised emojis delighted the judges with its creativity. Congratulations to the winning schools!
ANTI-BULLYING WORKSHOPS WITH SPECIAL GUESTS
Our special guests from the worlds of music, YouTube, poetry, drama and dance led inspirational and creative workshops with young people to explore bullying and how to tackle it. In the afternoon everyone had the opportunity to showcase their work and perform their anti-bullying songs, dances, drama pieces and present their videos and graffiti artwork.
#SHAKEBULLYINGOFF CAMPAIGN
To celebrate Anti-Bullying Week we teamed up with Snapchat to launch a national #ShakeBullyingOff filter!
We challenged YOU to tell us all the ways that you shake bullying off and tag us on social media. We had loads of great suggestions, from dancing and enjoying uplifting music to even holding Smile Days and Compliment Days in school just like Campsmount Academy did this week.
Keep your suggestions coming in and don't forget to tag us @dianaaward and @antibullyingpro using #shakebullyingoff!
WHAT WERE YOU ALL UP TO FOR ANTI-BULLYING WEEK?
A HUGE thank you to everyone who let us know what they were up in their schools for Anti-Bullying Week! We have selected some of our favourite activities below...
Hurstmere School in Sidcup have had a very successful first Anti-Bullying Week. Their Anti-Bullying Ambassadors have spoke in SIX assemblies, held art, poetry and music competitions, run a cake sale and raised awareness in Citizenship lessons! They also created a drop box in reception for students to post their Anti-Bullying ideas and issues. Amazing work!
Schools across the country made friend pledges and delivered assemblies....
Anti-Bullying Ambassador Lydia gave an Anti-Bullying presentation to Macclesfield Youth Brass Band to raise awareness of how they could get involved with Anti-Bullying Week....
...And Mount Carmel School even created their own Anti-Bullying Song!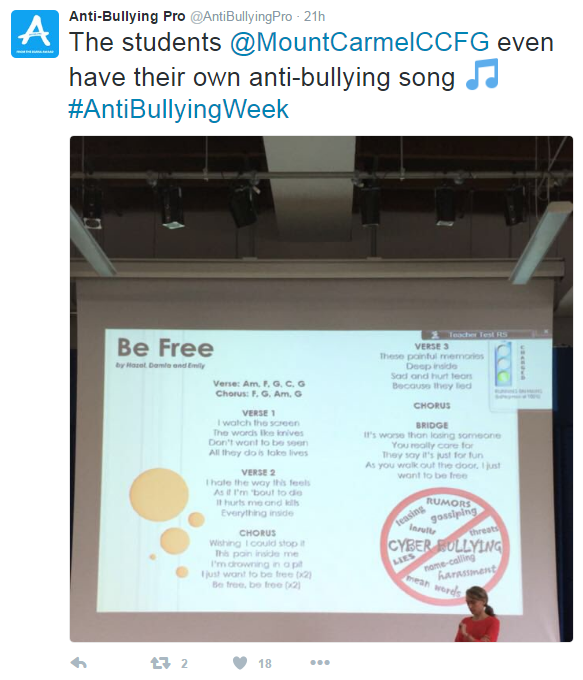 A HUGE THANK YOU TO EVERYONE WHO SUPPORTED ANTI-BULLYING WEEK 2016! : )